8 Resorts For A Memorable Memorial Day Weekend
Though the calendar may say Summer doesn't officially begin until June 21, we all know it actually starts the Friday before Memorial Day. With an extra vacation day and temperatures rising, Memorial Day is the perfect time for you to take that long weekend getaway you've desperately been wanting! Since it's tough to pack in a full agenda and find time for much needed relaxation into just a few days, holiday weekends are great spent at resorts that offer plenty of activities and amenities, taking the stress out of planning a vacation. To give you some inspiration, I've rounded up eight standout resorts in the US that you won't need (or want!) to leave until checkout.
If you haven't done so already, it's not too late to book Memorial Day travel, and I want to help you get there (or wherever your summer travel plans take you)! I'm giving away a $100 airline gift card to one lucky reader (either Delta or Southwest - winner's choice). All you have to do is subscribe to my blog's newsletter and your name will be entered in the drawing. The giveaway closes at 12pm ET on 5/10/19, when a winner will be selected at random, so you have just a few days to subscribe (sign up here)!
fOR A Classic New England Escape…
Located on the bluffs of Watch Hill, Rhode Island, Ocean House is an iconic New England seaside resort. We spent Memorial Day weekend here two years ago and it deservedly made the shortlist of my favorite trips of all time thanks to the charming appeal of both hotel and setting. The yellow exterior and stunning grounds are what initially lured me in, but once I stepped inside I was even more impressed! With all the luxuries of a five-star hotel, mixed with an elegant laid-back atmosphere, you feel as though you're staying at your own personal waterfront estate. Very Kennedyesque (not to mention Taylor Swift's estate is right next door!). As one of only eleven Forbes Triple Five-Star hotels in the world, Ocean House not only offers fine accommodations, but also numerous amenities from farm-to-table cuisine, an award-winning spa, and complimentary daily activities such as a yachting, tennis, beach cabanas and even a championship croquet lawn. Perfect spot for both families and couples, and a short forty minute drive will take you to historic Newport. You can read all about our stay here. Rooms from $500.
FOR OLD SCHOOL GLAMOUR and luxury…
Beverly Hills, California
Not only have I enjoyed a wonderful Memorial Day here, but The Beverly Hills Hotel is hands down on my all-time favorite hotels list! There are few hotels more iconic and it truly is as glamorous as it appears, seamlessly blending vintage charm with modern luxury. When you go, start your day with breakfast at the Fountain Coffee Room, the iconic diner that's been serving Hollywood stars since 1949, followed with sunbathing by the pool and a McCarthy salad for lunch. My heart's skipping a beat writing this, it's that wonderful! Located in the heart of Beverly Hills, the "Pink Palace" is set on 12 acres of tropical gardens and exotic flowers, creating a serene escape during your time in LA, yet just minutes away from all the city has to offer if you want to get out and explore. Staying here is an experience you'll never forget. Rooms from $650.
FOR Relaxation and Renewal On The Coast…
Santa Barbara, California
While I've never stayed at Bacara I did seriously consider a Memorial Day getaway here a few years back (a weekend split between Shutters On The Beach and Beverly Hills Hotel won instead). If you want Mediterranean living without traveling to Europe, Bacara is for you! Nestled in the Gaviota Coast of Santa Barbara, this Ritz-Carlton property transports hotel guests to a place of natural beauty and quiet charm. With the Pacific Ocean beckoning below and winding paths leading through lush gardens, the resort is a natural destination for relaxation and renewal set on 78 waterfront acres. If relaxation is what you're seeking, the massive holistic spa offers 36 treatment rooms and a serene rooftop terrace, where you can relax and soak up the ocean views before or after your treatment. Between the three restaurants, a tasting room, hiking trails, pools and beachfront, you won't want to leave, unless the charming downtown of Santa Barbara is calling your name. Rooms from $399.
FOR peace and quiet at an enchanting estate…
There's something extremely alluring to me about historic private estates turned into boutique hotels and this next resort is no exception. An enchanting country retreat favored by creative leaders of the day is not only the perfect way to describe the stately Troutbeck in Amenia, New York, but it has been true for centuries. Today this luscious, fully revived and renewed manor house, just two-hours from Midtown Manhattan and situated on 45 secluded acres bisected by two flowing bodies of water, is once again a hotspot for those craving a high-minded respite. Be prepared to get lost amid natural splendor, a walled garden, three on-property trout pools, beautiful cycling and, a seasonally sourced farm-to-table menu. Rooms from $275.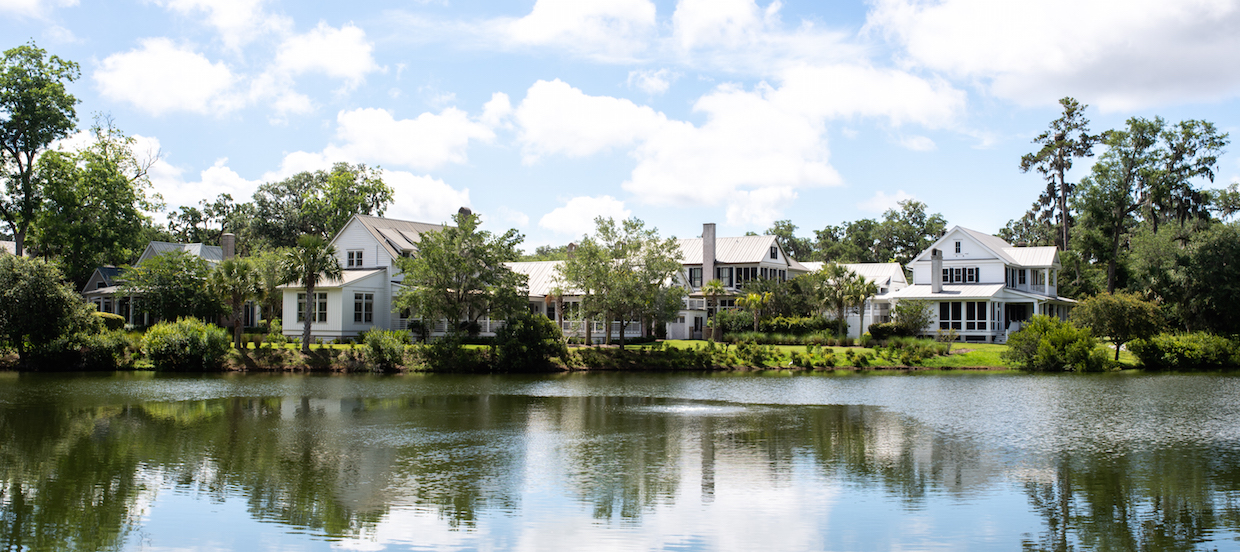 Nestled along the scenic May River in South Carolina's Lowcountry, Montage Palmetto Bluff is set within a vibrant 20,000-acre community between Hilton Head Island and Savannah. Providing guests access to all that Palmetto Bluff has to offer, the resort encompasses an extensive nature preserve, two picturesque villages featuring nine Southern-inspired dining options, a riverfront marina and a Jack Nicklaus Signature Golf Course. The area oozes Southern charm thanks to fireplaces, verandas, and a glittering riverfront. There are plenty of family activities, and for a well-deserved mind-and-body break, the Cottage Spa is excellent. Rooms from $370.
For Luxury Adventure In The High Desert…
Four Seasons Resort Rancho encantado
Blending beautifully into the landscape, Four Seasons Rancho Encantado is an intimate hotel set on 57 rolling acres in the Sangre de Cristo foothills just a few miles from Santa Fe. The resort has a main lodge and a dozen or so casitas scattered throughout the property which house the guest rooms. All the casitas have regional decor, fireplaces, heated floors and outdoor space, as well as top-notch amenities like one-hour pressing and fire butler service. The best amenities of the resort though lie outside the casitas in nature. Rancho Encantado has become a base for luxury adventure in the high desert, attracting guests for the guided excursions it offers. The resort's adventure center offers everything from free hikes every morning, mountain biking, jeep tours and hot air balloon rides to culture tours of Georgia O'Keefe's Ghost Ranch and the City of Acoma Pueblo. Your itinerary is completely customizable and can even include seasonal ceremonial dances and feasts at nearby historic Pueblos. And being just 15 minutes from downtown's shops and galleries, it offers the perfect blend of seclusion and accessibility. Rooms from $250.
FOR a little island life…
Andaz maui at wailea resort
It's pretty hard to beat Hawaii, and for you West Coasters, the islands are within reach for a long weekend escape. Lucky you! Retreat to Andaz Maui at Wailea Resort, a luxury hotel set on 15 beachfront acres and immerse yourself in the island spirit with regional farm-to-table dining, direct access to Mokapu Beach, and rooms boasting tropical views. During the day, choose from five different pools to relax and soak up the sun, including three ocean-facing cascading infinity pools, a lagoon pool and an adult tranquility pool for guests 18 and over. At night, explore the exotic Polynesian culture and history of Maui during the resort luau experience, featuring an authentic 'ohana-style meal and cocktails during the Feast at Mokapu. Rooms from $549.
FOR both beach Life and nightlife…
If you live on the East Coast, Miami is a great destination option for weekend trips with often cheap flights in and out and dozens of cool properties to stay at. Last year we checked into Miami Beach EDITION for President's Day and didn't leave the resort once - it has it all! The property perfectly blends the intimacy and style of a boutique hotel with the amenities of a luxury resort - a winning combination in my book! The best way to describe the hotel is laid-back tropical elegance, which I sensed from the moment we pulled off the famed Collins Avenue into the hotel's tucked-away entrance. The lobby is bright and airy with sheer curtains, white marble, linen furniture and pops of gold detail thoughtfully intertwined with large potted palms everywhere you look. It's quite stunning! Oversized daybeds, two pools and the largest beachfront in Miami are yours to enjoy by day, and by night, choose from bowling or ice skating after a delicious meal at Matador Room. The hotel really offers just about everything! EDITION has a handful of properties across the globe and as no two cities are alike, their properties aren't either. Each one is designed to give guests a curated taste of the locale, resulting in a refreshing collection of individualized hotels. This "anti-hotel chain" is part of Marriott's rewards program, so even more incentive to check them out if you're a member. Rooms from $250.